Access
4mins walk from Kyoguchi Station
15mins walk from Himeji Castle 22mins walk from Himeji Station

If you need guidance to Shironoshita Guesthouse, please click here.

Address: 21 Kodera-machi Himeji-city
(Shironoshita Guesthouse is very near from Toko Junior High School.)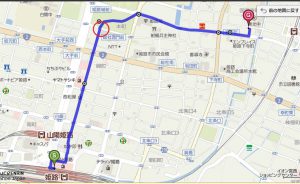 【From JR Himeji station】(Please also refer to the above map.)
1.Go straight along Miyuki-dori(みゆき通りthe shopping street) for 750m. When you arrive at Otemae Park, cross obliquely to the northeast.
2.Cross obliquely to the northeast at the traffic light.
3.Go straight to the east for 600m, you can see the parking of Nakamura-iin(ナカムラ医院). Please turn left there and turn left again in the next corner. You will arrive at Shironoshita Guesthouse soon.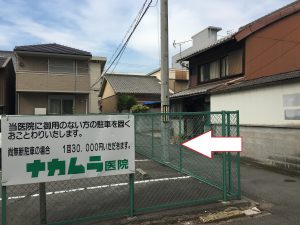 You can come to Shironoshita Guesthouse by bus from Himeji Station. Please take a bus at terminal No.14(all buses) or No.15(bus no.23 or 24) in Himeji Station North exit. Please get off the bus at 'Iccho-machi'. (180JPY)
【From JR Kyoguchi station】
1.Kyoguchi Station is one station by Bantan Line from Himeji Station. (150JPY)
(Caution: When you take Bantan Line from Himeji Station, please ride in the first car. Otherwise you sometimes can't get off at the Kyoguchi Station.)
2.After getting off the train at Kyoguchi station. Go straight to the west for 4 minutes. You will arrive at Shironoshita Guesthouse.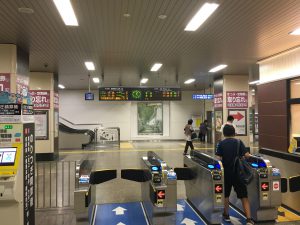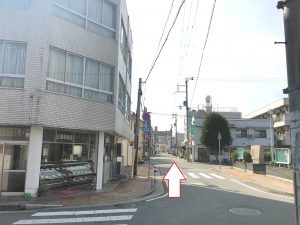 【In case of coming by car】
We don't have a parking lot for guests. There are some coin parkings you can park (500~600JPY within 24 hours). Please check the picture below.   
(If you temporarily stop your car by our guesthouse, please stop your car so that it is parallel to our car. Don't stop your car on the land in our neighborhood.)